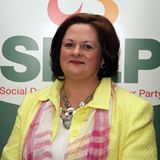 Denise Mullen, Mid Ulster SDLP Councillor called into the Centre on Monday 28th September 2015.
The Councillor witnessed for herself the amount of educational programmes offered and the volume of women attending classes here. We had 5 different classes with 79 women in attendance!
Denise heard about the support services (Benefit Checker, Counselling) we have available to the women in the Dungannon and surrounding areas. She was very impressed with our Creche facility and the employment of 3 Bi-lingual Staff!
Michael McGoldrick CEO spoke about our new ESF Programme. Denise had heard that 219 women and 45 children attended the Centre during the first week of programmes.
Michael raised concerns about how funding has been delegated to local councils by the Dept for Social Development and that this could have a significant impact on the future of FSWC.

Denise stayed for over an hour and left with the feeling that FSWC is an essential part of the community development fabric within Mid Ulster and it should remain so.
Please note: the Benefit Check Service is open to men and women.  The Benefit Check Service and the Counselling Service are also available to women who are not currently attending a course here.