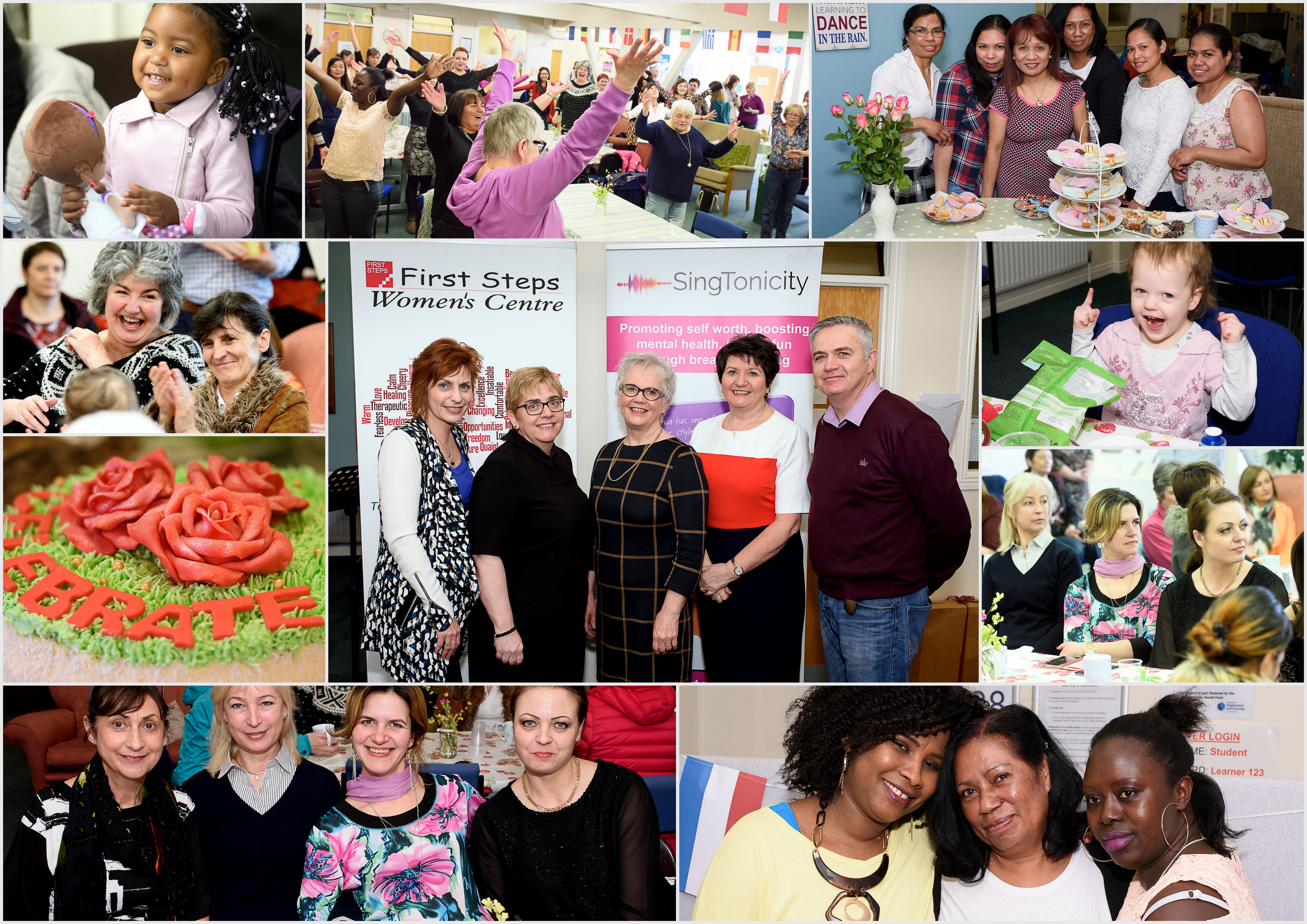 First Steps Women's Centre (FSWC) celebrated International Women's Day with a SingTonicity session.  Siobhan and Anne had already delivered their singing workshop here back in 2015.
The morning began with an inspirational speech from our Project Manager Yvonne Corbett. Yvonne gave a brief history of International Women's Day (IWD) and how it began way back in 1909 to celebrate Women's role in society. IWD has officially been celebrated since 1975 but it has only been in the last few years that local organisations have really began celebrating women and how important their role is especially in family life.  
Yvonne said, "The theme for this year's IWD is #BeBoldForChange and FSWC has helped change women's lives be it from Education or learning a new language (ESOL) to our Benefit Check Service which in 2016 has helped women claim over £87,000 in benefits they did not know they were entitled to.  We can all change someone's life, even something very small that everyone of us could do for ourselves or anyone else."
Then the SingTonity ladies began their workshop.  Siobhan Heaney wished everyone a happy International Women's Day!  She gave a brief introduction on SingTonicity and got the ladies to warm up their voices with some breathing exercises.  Then we spent the next hour and a half singing and laughing and really enjoying ourselves!
Siobhan said "This is such a vibrant Centre.  We are delighted to be invited back and we have had a fabulous day with some fabulous voices.  You should start a First Steps Choir!"
After our SingTonicity session there was a small raffle and the ladies enjoyed all the lovely food.  Many thanks to the ladies who brought in food from their countries and to the Big Lottery Fund for their Celebrate grant.
Some of the lovely comments made:
"Thank you for all the support, help and kindness and the cups of tea!!"
"Thank you for the great afternoon.  FSWC is brilliant. Staff so friendly and welcoming and always a smile on their faces"
"This is an amazing place.  I could not do without it.  It has gotten me through tough times in my life when I thought life wasn't worth living.  I love all the Staff.  You are all awesome and friendly! Words can't cover it"
"The Centre is vital to this area. A brilliant facility giving hope, light and life.  A warm welcoming, open and supportive environment supporting those in need".
"First Steps, baby steps, a fantastic facility.  When I took my first step into the Centre I felt like I was getting a big hug"
"I hope the Women's Centre will be here for a long time to come.  The best Centre ever and lovely Staff!"
Photos by SJS Images