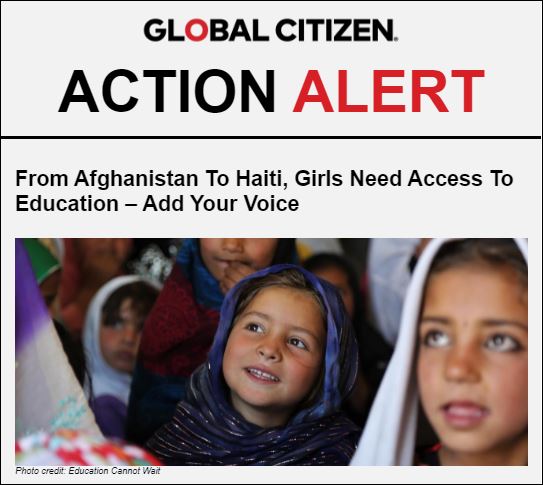 The crisis in Afghanistan displaced thousands, forced schools to close, and left millions of girls wondering if their right to a quality education will be upheld. On the other side of the world, children in Haiti still face school closures and devastation after an earthquake last month.
Challenges like these on top of an unfolding COVID-19 education crisis mean that children caught up in disasters, particularly girls, need our help more than ever to protect their futures.
Not all students can continue their education online while their schools are closed. Almost 50% of the world's population is offline and girls are the least likely to have access to online learning. Yet, we need education to reduce inequalities, improve health, achieve equitable opportunities for girls, and eliminate child marriage.
That's why Global Citizen and Education Cannot Wait (ECW) have joined forces to help END the education crisis, bridge the gender divide around connectivity and online learning and safeguard the futures of the world's most vulnerable children. With enough support from governments, ECW could reach 4.5 million more marginalized children around the world to help them #ReturnToLearn.
This International Day of the Girl Child, join me in calling on governments to stand up for the well-being and dignity of the world's most vulnerable children, particularly girls. When enough people sign, we'll deliver our call to world leaders urging them to commit their support for inclusive education. Add your voice to protect the education of kids caught in climate disasters.