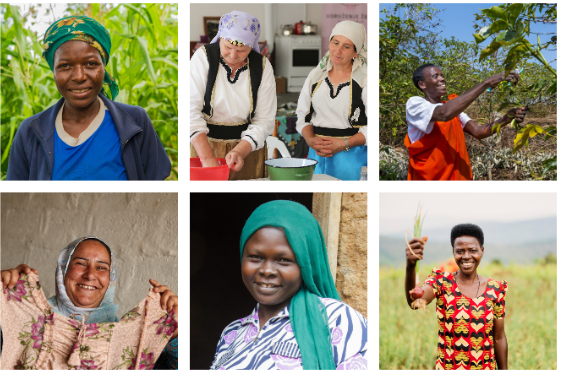 Geraldine, Aisha, Sukari and Hassana might not know each other but they all have one thing in common: the ability to seize opportunities despite obstacles.

In every community we work, there's a common thread: assets with economic value are usually owned and controlled by men, who pass them from father to son. This makes it difficult for women to start their own businesses.

Women are also less likely to receive education and training in the skills they need for business such as technical and vocational skills, literacy, and numeracy.
"I knew that my family's poverty was due to illness, not laziness, and so when Women for Women International invited me to join their 12-month programme, I knew I could use the opportunity to lift up my family."

Geraldine
Women for Women International - Rwanda programme graduate
Details

Friday Focus: 5 years on, Yezidi women enslaved and raped by ISIS face an unbearable dilemma
Five years ago, in August 2014, ISIS fighters launched a genocidal attack on the Yezidi religious minority in Sinjar, northern Iraq.

Women and girls were raped, enslaved and forced to endure unspeakable atrocities. They saw their husbands and sons tortured and killed. Survivors fled to the Kurdistan Region of Iraq, setting up makeshift homes in displaced persons camps. Half a decade later, the majority are still there.
Details
Meeting Amela, my first sponsored sister, in Bosnia and Herzegovina
Last month, I had the opportunity to meet face to face with Amela, my first ever sponsored 'sister'. Ten years ago, I sponsored Amela to take part in Women for Women International's year-long training programme in Bosnia and Herzegovina.
Details

Right now, there are hundreds of women waiting to enrol in our programme in Afghanistan, Nigeria, and the Democratic Republic of Congo. You can help by sponsoring a woman today.
Details
Prime employers are forging gender parity worldwide
Be inspired by the awesome women whose work and careers are truly rocking with tremendous support from their employers. Join them - whether you're an intern, apprentice, graduate, experienced professional, career returner or executive.
Flexible working? No problem! Top benefits? Absolutely! Diverse inclusive work culture? For sure!
Details
Ladies, raise your glasses! Next week marks 100 years since a landmark law gave women in the UK the right to vote — and we have a lot to celebrate. Since that historic ruling, life has improved drastically for women in this country.
But fast forward to 2018, and opportunities are still limited for women and girls around the world, all because of sexist laws that belong in the 1900s. Like the suffragettes before them, inspiring young women like Sonita Alizadeh and Nujood Aliare fighting to end misogynistic practices like child marriage — and today, they need your help.
Ladies, turn the clock forward 100 years — take action to end child marriage for a

better

future for women and girls.
Meet Samira, whose story is both tragic and inspiring. In Bangladesh, where Samira is from, over half of girls marry before the age of 18 — and they are often submitted to horrific violence from their husbands.
Details
Join our Patron Dame Helen Mirren and send a #MessageToMySister between 1st – 8th March. You can send a message online at womenforwomen.org.uk/message. 

You can also share a message of support on social media using #MessageToMySister and tagging @womenforwomenUK.

We will deliver the messages directly to women in our programmes in countries affected by conflict – showing that there are men and women all around the world who care. 

There's never been a more important time to put the spirit of sisterhood into action. Together, our messages will say: we are standing with you.

Please send a #MessageToMySister today. 
Details