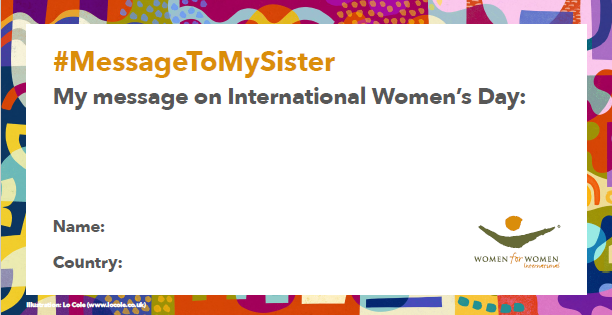 We know how powerful it is for a woman survivor of war to hear the words: you are not alone.
That's why this International Women's Day, we're organising a very special delivery.
We're asking people like you, all over the world, to send a #MessageToMySister – just a few simple words on a postcard, to express solidarity and support for women living in some of the world's most dangerous places.
A conflict zone, refugee camp, or unfamiliar host country can be the loneliest place on earth. Women living there have lost family, friends, and everyone they depended on for support. It can feel as though the outside world has forgotten about them.
Your postcard will be delivered directly to a woman in our programme, telling her you're standing alongside her on International Women's Day.
Request a postcard today
We've got 200 #MessageToMySister postcards waiting to be filled with your personal messages. Get hold of yours by replying to this email with your postal address – the first 200 responses will receive a postcard.
Your words really can make a difference
They will show a woman she's got an ally she's never met, on the other side of the world – someone who shares her hopes and believes in her abilities: to rebuild her life, return to her home, give her children a brighter future.
From 1st of March, you will also be able to send an e-message via our website and share messages of support on social media – we will share this link closer to the time. 
This email address is being protected from spambots. You need JavaScript enabled to view it.