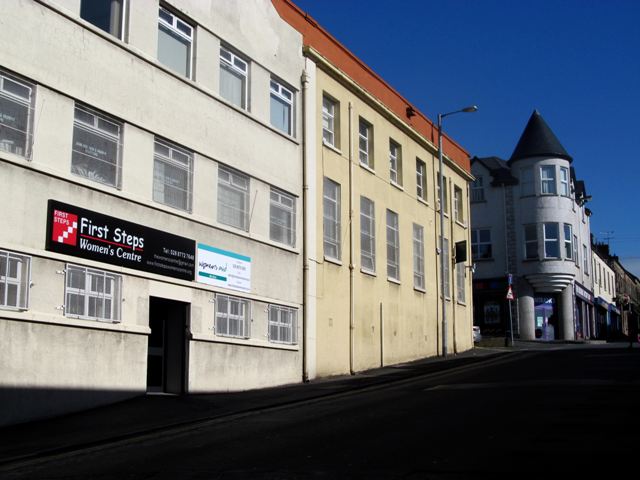 "Supporting women's professional and personal development through education and training."
A Centre of Education exclusively for women from all backgrounds, First Steps Women's Centre (FSWC) has been a beacon of hope, support, training and Childcare for women in the Mid Ulster Area since 1998.
FSWC provides 300-350 course placements per year for women wanting to take that first step back into education, gain a qualification and progress to employment.  We offer IT and Life Skills Courses.  In addition we provide 56 Childcare places per week in a safe and friendly environment, Well-being programmes, transport, Benefit checks and counselling.
FSWC helps address and remove barriers experienced by women when engaging with education, training and employment, e.g childcare (onsite Creche), transport (Centre Mini-bus), finance (Benefit Check Service), social and personal problems (Counselling & signposting services) Previous students have enjoyed the Centre's friendly atmosphere and approachable staff and tutors.  They leave the centre with increased confidence to further their education and/or look for employment. 
We provide training and education in many subjects including:
IT -  Introduction to Computers, Getting the most from the internet, Getting the most from your iPad/Tablet, iPad Progression, Getting to know your Smartphone, Sage Accounts, Sage Payroll, 
Life Skills - Esential Skills Literacy (English) & Numeracy (Maths), ESOL and Vocational Skills.
Wellbeing Programmes -Assertiveness, Sew Good, Yoga, Managing Stress and Cook It.
Our pass rates are between 75% & 100%.
Awards
In June 2009 FSWC was the first Women's Centre in Northern Ireland to attain Investors in People accreditation and later in the same year won the All Ireland Aontas Awards for Adult Learning Organizations.
FSWC was short listed for Irish News 2009 & 2010 Best Place to work – Innovative employer award, runner up in CO3 Awards - Leading in Learning & Development in two categories - Leading people and Leading a smaller organisation.
In February 2011 FSWC attained Silver Iip Status – putting them in the top one percent of recognized Investors in People companies in the UK. The IiP model has been easily integrated into our existing systems and has given an added value to our work, enabling us to look with greater confidence at our future and has helped the Organisation develop a much greater innovative culture. We were able to retain this Status in March 2014.
In March 2011, our student Wilma Graham won the Tyrone Essential Skills Award recognising outstanding achievements in Literacy, Numeracy and ICT learning.  In November 2011 FSWC achieved Excellence in People Development  from the Mid Ulster Business Awards.
In March 2014 we retained our Iip Silver Status.
First Steps Women's Centre courses have a first class, on-site Childcare facility which has a daily capacity of 16 places. We also provide Transport in our 13 seater Mini-Bus.
A one-to-one Counselling service is available.  Please contact us to make an appointment.
We offer a Benefit Check Service to both Men and Women , contact Gillian on (028) 8772 7648
Testimonials from women who attended courses at  First Steps Women's Centre 
For an Application Form for January 2018 Click Here 
FSWC is a legally registered charity with HM Revenue & Customs and also a legal company, registered with Companies House in Belfast.